Call for pricing information.
Wedig Welding, LLC
Dennis Wedig, Manager

26351 St. Peter's Rd
Cuba City, WI 53807

Shop: (608) 762-5498
Cell: (608) 778-0074

Fax: (608) 762-5499

Weaver Micro Mixer
This is an ideal companion to your TMR or grain mixer. It allows you to use TM / VTM concentrate to premix to TM / VTM standard formulas or to create your own custom mixtures. Also great for calf starter mixing!
Read More...
Bale Squeezer
Carries 5' to 8' bales. Adapter available to carry smaller bales. End clamps stay parallel to eliminate "banana" bales. rugged enough to carry more than one bale at a time.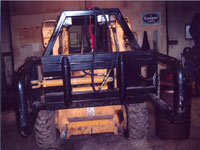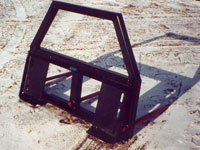 Bale Spear
Built with 3 tapered tines designed to slide easily in and out of bales without sliding up through bales. Handles any size square bale. Round bale or combination round / square bale spear also available.
These are tools that I think are worthy of consideration in your quest toward minimum tillage.
The Savage Deep Aerator™
The NH Savage Corporation
400 Industrial Road
Madill, OK 73446
ph 580-795-3394, fx 2448
www.savageequipment.com
Tarver Sales Plant-O-Vator™
Tarver Sales
84636 Hwy 25
Folsom, LA 70437
ph 800-848-9303 or 985-796-5632, fx 3074
www.tarversales.com
Multivator™
Ford Distributing, Inc.
10784 Industrial Parkway
Marysville, OH 43040
ph 614-873-4620, fx 8584
www.multivator.com
www.forddistributing.com
SBE Greenscape 600 Solid Stand Seeder
Strickland Brothers Enterprises, Inc.
3622 Wiggins Rd
SpringHope, NC 27882
ph 252-478-3058, fx 7608
www.stricklandbros.com
These are miscellaneous tools that I would recommend to dairymen following the KOW school of thought:
Tinedweeder
Jim Tillman & Tevie Tillman
Importers/Distributors
912-764-4347 or 843-345-6776
Mike Brown
West Coast Dealer
805-720-4080
www.tinedweeder.com
Port-A-Hut Inc.
P.O. Box 369
Storm Lake,IA 50588
Ph: 712-732-2546, Fx: 712-732-6263
1-800-882-4884
www.port-a-hut.com
Peterson Manufacturing Corporation
E10451 County C
Clintonville, WI 54929
Ph: 715-823-6483, Fx: 715-823-5200
Toll Free: 1-800-472-1202
pbpi@frontiernet.net
www.petersonbuilt.com
Worksaver, Inc.
P. O. Box 100
9 Worksaver Trail
Litchfield, Illinois 62056-0100 USA
Ph: (217) 324-5973, Fx: (217) 324-3356
www.worksaver.com
ASV Inc.
1-800-346-5954, Fx 218-327-9122
Go to website to locate dealer near you.
www.asvi.com
Mattracks, Inc.
202 Cleveland Ave East
P.O. Box 214
Karlstad, MN 56732
Ph 218-436-7000, Fx 218-436-7500
www.mattracks.com
DC Atlas Co. Inc.
106 W. Cedar Street
P.O. Box 17
Spencer, WI 54479
Phone: 715-659-2444, Toll Free: 800-236-1136
Fax: 715-659-2452
sales@dcatlas.com
www.dcatlas.com
Pearson Farm & Fence
523 N. Main
Colfax, WA 99111
Ph: (509) 397-2529
Toll free: 888-265-3017
sales@pearsonfence.com
www.pearsonfence.com
H&S Manufacturing Company, Inc.
2608 S. Hume Avenue
P.O. Box 768
Marshfield, WI 54449
ph 715.387.3414, fx 715.384.5463
www.hsmfgco.com
Tri-State Ag Associates
2372 Chelsea Avenue
Freeport, IL 61032-9171
ph / fax 815-233-9980‎
H. Becker Inc.
396 Yellow Hill Road
Narvon, PA 17555
Ph 717-733-1124
www.woodchuckbeddingspreader.com
Kuhn North America, Inc.
1501 West Seventh Ave
PO.BOX. 0167
BRODHEAD, WI 53520
Phone: 608-897-2131, Fx: 608-897-2561
www.kuhnnorthamerica.com
Ag Shield
Call toll free in North America at 1-800-561-0132
or call 1-204-539-2000.
Box 9, Benito,Manitoba, Canada, R0L 0C0
www.agshield.com
Harper Industries, Inc.
151 E Highway 160
Harper, KS 67058
Ph: 620-89-7381, toll free: 800-835-1042
Fx: 620-896-7129
info@harperindustries.com
www.deweze.com
Winkel Manufacturing
2225 A-200 Rd.
Glen Elder, KS 67446
Telephone: 785-545-3606
Toll Free: 800-466-3606
Fax: 785-545-3297
winkelmfg@nckcn.com
www.winkelmfg.com
Tigerco Distributing
705 North Main
Braymer, MO. 64624
Ph: 660-645-2212 (800)-432-4020
www.tigercoinc.com